A recent review of the data we have collected for the Staffordshire parish of Gnosall revealed a glorious surname, particularly when we consider the family business: the Blackbands of Gnosall were grocers and drapers, who doubtless supplied their customers with funereal black bands when required.  Further investigation confirmed the sobering reality of the name and the trade, since the latter was insecure despite commissions from the parish.
Brothers Gerard and Benjamin Blackband were both in business in Gnosall in the 1810s and 20s, and their uncle Joseph was in the same line of work in nearby Newport (Shropshire).  Gerard had an early partnership with William Keen, in an grocery and ironmongery, but this was dissolved in 1810 shortly before William Keen married Gerard's sister Elizabeth.  Gerard Blackband himself married Mary Harper in 1811, while Benjamin married Elizabeth Burley in 1815: both couples had children baptised in Gnosall.  The two families remained in the parish, since Benjamin died there in 1845 and Gerard in 1853.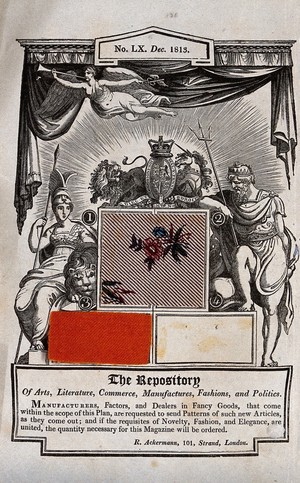 Fabric samples on a printed background 1813: image courtesy of the Wellcome Trust
The parish made payments to one or other of the Blackband brothers for pauper clothing and textiles for working up into garments.  An account book dedicated solely to parish clothing 1811-12 records sales of robust cloth like thick flannel for 1s 10d-2s 3d per yard, and flimsier stuff like calico for 9d-10d per yard.  Women's gowns and jackets were made of linsey, a relatively coarse but durable material of wool and flax (or wool and cotton).   Stockings and hats were bought ready-made; everything else was cut out and sewn from the raw materials.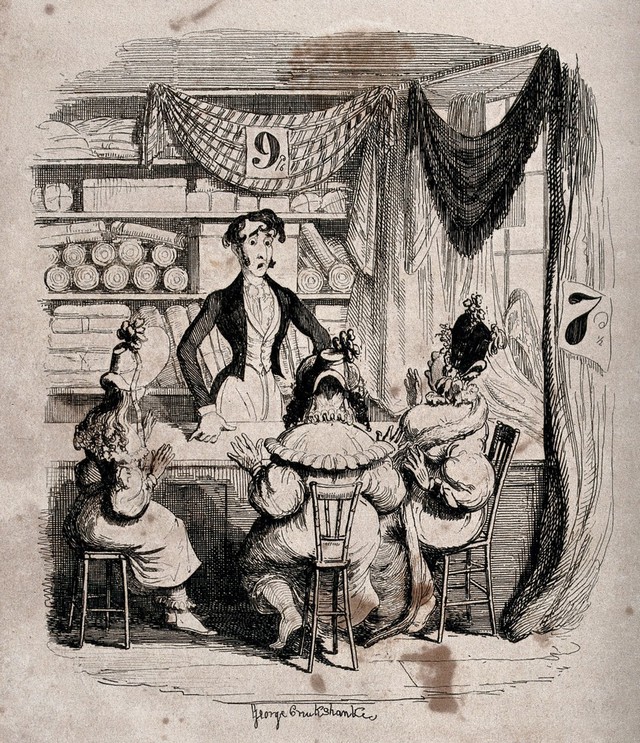 G. Cruikshank, A London Linen-Draper's Assistant, 1839: image courtesy of the Wellcome Trust
Two features of the account book immediately struck me as interesting. First, it is only concerned with quantities of textile purchased, and the cost per unit, not with the overall expenditure on materials.  This suggests that the parish officers were not (in this instance) interested in the bottom line.  They were either monitoring the flow of garments to individual paupers (who wore through their clothing most rapidly?), to the indoor versus the outdoor poor (since the workhouse recipients are identified separately), to the poor of different parish 'quarters' (placed in different lists), or checking the price of cloth over time/from different shops.  Second, a small place like Gnosall could still draw on multiple suppliers for clothing and fabric.  The population of the parish in 1811 stood at just 2372 people across all of the parish, but the overseers still managed to spread textile purchases among the separate businesses of Mr Blackband (first name unspecified), Mr Bromley, and Mr Williams. One of our vouchers reveals that Benjamin Blackband was definitely supplying the Gnosall poorhouse with thread, laces and needles in 1823.
Perhaps it was this level of competition in such a small geographical compass that proved so difficult for the maintenance of the Blackband businesses, and perhaps there was a risk in one family investing so heavily in one type of pursuit.  Whatever the cause, though, both Gerard and Benjamin Blackband and their uncle Joseph of Newport suffered bankruptcy in the 1820s.  Notice was given of both Gerard and Joseph's bankruptcies in 1822, while Benjamin followed in 1825.  The brothers' recovery from this blow is difficult to chart, but by 1841 Benjamin was living in the household of his brother-in-law William Keen, whereas in the same year Gerard was living independently as a grocer with his wife and children, but lacking any household servants.  Once again, investigation of businesses identified in the vouchers suggests that parish custom was used to support fragile ventures.
Sources: SRO D951/5/29 account book of clothing supplied to the poor 1811-12; D951/5/81/117 overseers' voucher of 1823; NA HO 107 census of 1841 (NB Gerard is listed under the surname Blackland); NA IR 27/304 death duty register 1853; marriages of 24 January 1811 in Edgemond Shropshire, 13 December 1811 and 14 March 1815 both in Gnosall; baptisms of 22 August 1813 and 5 December 1819 both in Gnosall; burial of 12 March 1845 in Gnosall;  London Gazette entries for partnership and bankruptcies on 18 December 1810, 22 October 1822, 10 December 1822, and 20 December 1825.